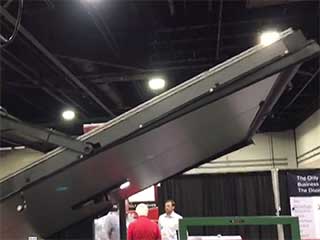 There are many things to consider before you buy a new garage door. The color and style combinations are endless and there are so many features that you may find it hard to choose between the ones that you actually need and the ones it will be nice to have. We collected a few useful garage door buying tips to try and help give you some guidance.
The Right Color And Style

Considering the average size of a garage door, choosing the right one for you is pretty important, as it will represent a major part of your house. You want your door to stand out, but not a gaudy way. The color should be in line with the rest of the exterior of your house but still look good on its own. The same goes for the style. You want a style that complements and improves the rest of your home and not one that clashes with it.

The Suitable Panel Material

What your new door will be made of is incredibly important as that will determine how strong and durable your door will be, as well as how much maintenance it will require. Wood is a beautiful choice that can be very strong too, but it requires a lot of upkeep. Steel is durable with a capital D, but it can rust and it isn't naturally insulating. Aluminum is very lightweight and requires barely any maintenance, but it can dent and break more easily. Your local climate will also play a factor, and will make one material better than the others.

The Proper Level of Insulation

Another added feature you need to consider when looking for a new door is how insulating it is. Not all doors have a high R-value, and depending on where you live it may fine or it may be a major mistake to get a model that doesn't offer improved insulation capabilities. Garage door insulation does more than prevent heat loss and helps you maintain a desired indoor temperature, it also assists in reducing your energy spending, which can save you a lot of money in the long run.
For more information and help, contact our experts at Garage Door Repair Lilburn.