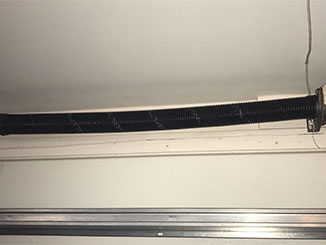 Although many people think the opener is the main device responsible for lifting and lowering your garage door, the springs are actually the parts that should be credited for this action. Without these units, opening and closing the door would require a true feat of strength, and definitely not something you'd want to be doing when you get back home from work or when you have to leave in the morning.
Important But Dangerous
As crucial as these units are, they're just as dangerous. Springs are under tremendous tension on a daily basis, and mishandling them can cause them to snap, which may result in serious injuries to persons standing nearby. That's why professional skill and experience are required to carry out any garage door spring repair or adjustment. Dealing with these units isn't something you should be doing yourself.
Which Type of Garage Door Springs Do I Have?
There's an easy way to tell. If these units are installed just above the door, parallel to its length, then you have torsion springs. Sometimes only a single unit will be required, as they tend to be very strong and flexible. If these units are attached to each of the door's sides and are stretching parallel to the horizontal tracks, then you have extension springs installed. These are often anchored with safety cables that help prevent them from whipping around when they break. You'll need to examine those routinely, to ensure their condition hasn't degraded past the point of functionality.
Leave Repairs To The Experts
While spring lubrication is something that you can do yourself, anything more complex should be left to professionals, to avoid the risk of injury. Our team here at Garage Door Repair Lilburn is at your service, and our spring adjustment and replacement experts are always a phone call away. You can also use our online system to schedule an appointment at your convenience.
Need more? We also provide:

Torsion Spring Adjustment

Part Replacement & Repair

Broken Cable Replacement

Genie Garage Door Opener Services